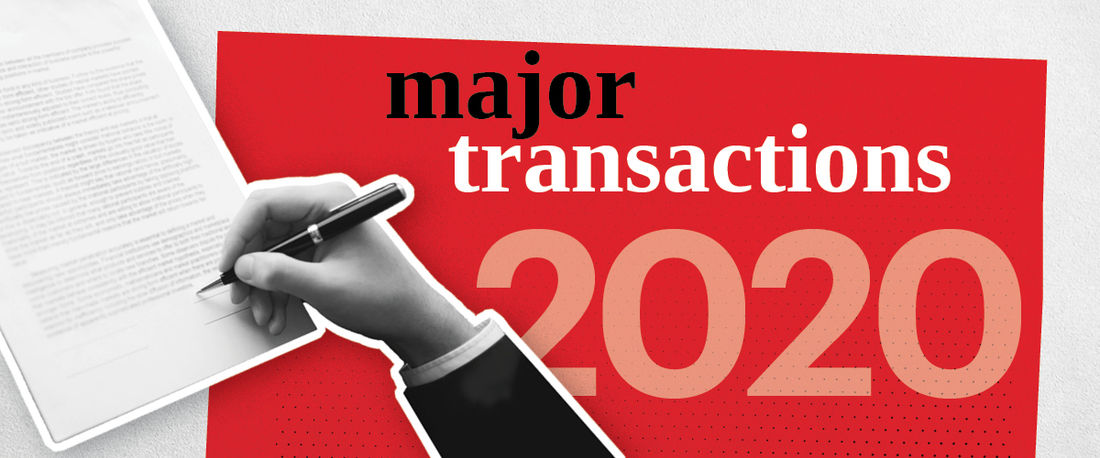 10 major transactions from 2020
By Charles Mathieu | December 30 2020 10:30AM
The COVID-19 pandemic has not stopped the consolidation movement that is taking place in the insurance industry. The Insurance Portal is highlighting ten transactions that captured attention in the last twelve months.
Merger of SSQ Insurance and La Capitale
The creation of Beneva, the company born from the merger of SSQ Insurance and La Capitale, follows the announcement of their intention to merge made earlier this year. The new merged company will have around 4,700 employees and nearly 3.5 million members.
Jean-François Chalifoux, who has been appointed CEO of Beneva, told the Insurance Journal that the proposed merger came at the right time. The combination will allow Beneva to invest in technology and the size of the company will allow it to remain agile, he said.
For more information:
La Capitale/SSQ unveils new brand image
Merger of La Capitale and SSQ Insurance gets the green light
Biggest mutual insurer in Canada: SSQ and La Capitale announce merger
SSQ Insurance and La Capitale merger: setting the stage for growth
Intact acquires RSA
Intact Financial Corporation announced in November that it wanted to acquire the Canadian, UK and international operations of RSA.
Intact has partnered with Danish insurer Tryg to acquire it. The latter will keep the Swedish and Norwegian companies of RSA. The two companies will be co-owners of the Danish operations of RSA.
Around $ 5.1 billion will be paid by Intact to complete this transaction.
For more information:
Intact taps institutional investors to help finance RSA deal
Intact partners with Tryg to acquire RSA
Foresters acquires Canada Protection Plan
Foresters Financial has acquired Canada Protection Plan (CPP). CPP will distribute Foresters products in 2021 under a new name: Canada Protection Plan, a Foresters Financial company.
For several years, the fraternal benefits insurer has underwritten the simplified and regular products designed by CPP.
For more information:
Foresters acquires Canada Protection Plan
Foresters targets synergistic growth in Canada following acquisition
How the Foresters-Canada Protection Plan Merger Will Work
Copoloff and Aurrea Signature acquired by IDC WIN
IDC Worldsource Insurance Network (IDC WIN) acquired 100% of the shares of managing general agency Aurrea Signature, previously owned by Humania Assurance, earlier this year. IDC WIN gained 1,200 advisers and 45 employees from this transaction.
IDC WIN also acquired Copoloff, Canada's oldest MGA, on October 1.With this deal, IDC WIN added revenues from life and health insurance renewal commissions of $2 million and assets under administration of $400 million.
For more information:
IDC Worldsource acquires Copoloff
Novacap acquires GroupAssur and a minority stake in AGA Financial Group
The financial services division of Novacap and its fund Novacap Financial Services I made three equity investments in companies in the insurance industry.
The investment fund became the majority shareholder of the general underwriting agent Optiom and the damage insurance wholesaler GroupAssur in mid-September. It also acquired a minority stake in AGA Financial Group.
In an interview with the Insurance Portal, Marcel Larochelle, managing partner, financial services, at Novacap, said the company analyzed almost 100 acquisition targets before making a decision.
For more information:
Novacap evaluated up to 100 acquisition targets
Novacap aims to make AGA Financial Group a national player
Several acquisitions in 2020 for Diversico
Diversico Finances Humaines carried out 7 transactions during 2020.
In Quebec, the firm acquired Les assurances Nicole Dumoulin, Carrefour Solutions, Réseau Financier Grand Montréal, SGSI Cabinet de services financiers, Marcolin & Associates and Groupe financier Sphinx.
The company also made its first acquisition outside Quebec – its biggest transaction so far. It acquired a block of business located in Sudbury, Ontario, which was owned by MGA Financial Horizons Group.
For more information:
Daniel Guillemette spearheads acquisitions outside Québec
Diversico begins the decade by acquiring four firms (French article)
Dialogue acquires Optima Global Health
Montreal-based telemedicine service provider Dialogue acquired Optima Global Health, a health and wellness service provider that offers employee assistance programs (EAPs).
The founder of Optima, François Laflamme, told the Insurance Portal that this transaction will allow him to retire. He also indicated that the deal will ensure the sustainability of the company.
For more information:
Sale of Optima Global Health: "A necessary transaction to reach the next level"
People Corporation acquires Robin Veilleux Assurances et Rentes Collectives and Studentcare
The People Corporation made two acquisitions in Quebec in 2020.
On the one hand, last November it acquired the outstanding shares of Studentcare, a provider of student health and dental care plans in Canada for a total of $56.4 millions.
On the other hand, in February, it acquired the firm Robin Veilleux Assurances et Rentes Collectives, which provides benefits consulting services to approximately 700 clients.
For more information:
People Corporation expands its holdings
People Corporation acquires a firm from Quebec (French article)
Merger of Aon and Willis Towers Watson
The reinsurance brokerage firm Aon ultimately bought out and absorbed Willis Towers Watson, one of the world's largest insurance brokers. The transaction was valued at US$ 29.9 billion.
The company decided to move forward after backing out a year earlier.
For more information:
Aon to acquire Willis Towers Watson
Hub Acquires Morneau Shepell's benefits consulting practice
Hub International acquired the group insurance advisory services activities of Morneau Shepell, a company specializing in human resources management. The transaction is valued at $70 million.
The Chicago-based company also made approximately 15 other acquisitions in Canada in 2020.
For more information:
Hub acquires Morneau Shepell's benefits consulting practice
Read all articles about Hub International
Related topics …