Ryan Michel, president and CEO of the Allstate Insurance Company of Canada will lead the Insurance Bureau of Canada's (IBC) board of directors as its chair, after being elected, the IBC announced in a statement June 16.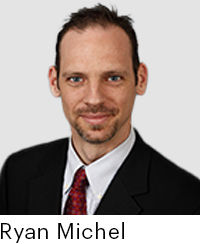 "Although Canadian insurers and the global insurance industry will continue to face challenges, the insurance sector will play a vital role in the economic recovery. IBC, as the voice of Canada's property and casualty insurance industry, is uniquely positioned to help advanced much-needed public policy discussions," Michel said in a statement announcing his appointment.
Policies being discussed by the IBC include those promoting recovery from the pandemic, advancing climate adaptation measures, reforming auto insurance and addressing new technologies and industry disruptors. "Through IBC, we will continue to engage governments and stakeholders to turn challenges into opportunities to benefit Canadian consumers," he adds.
Don Forgeron, IBC president and CEO says Michel "brings a wealth of industry experience and knowledge to the role." Among his credentials – Michel is accountable for five companies in the Allstate Canada Group of Companies' property and casualty insurance business – Michel is also a fellow of the Casualty Actuarial Society and a member of the American Academy of Actuaries. "We look forward to working with him on several issues."