The Autorité des marchés financiers has named the new of superintendent of client assistance and distribution supervision.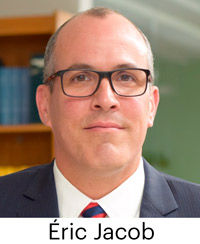 Éric Jacob will be replacing Frédéric Pérodeau, who was appointed a judge of the Superior Court of Québec just before the year-end holidays.
Jacob joined the AMF in 2008 as head of the assistance and complaints department. In 2010, he was appointed director of pre-investigations and cyber-surveillance, and interim head of the economic crimes department. In 2012, he became director of inspection services and was promoted to senior director of the inspection department in 2014. Since last year, he has been acting as the senior director of monitoring, risk and performance.
Prior to joining the AMF, Jacob worked at banks including BNP Paribas and RBC, where he held various positions in commercial and institutional finance, risk management and administrative services.
Second appointment  
The regulator also announced the appointment of Nathalie Hamel as executive director of public affairs. Since 2018 she had been working for the Montréal central administration, where she served as director, branding and digital strategies. She previously worked as vice president, public affairs and communications at the Société des Alcools du Québec (SAQ) followed by a similar position at Aéroports de Montréal (ADM).
"As the AMF embarks on the deployment of its 2021-2025 strategic plan, the arrival of these two seasoned leaders reinforces a management team and an organization mobilized around the vision of a value-added AMF for consumers and the financial sector," says Louis Morisset, AMF CEO.
Jacob and Hamel will officially begin their duties on May 31 and June 28, respectively.