This was John Kanary's advice to me as a manager many years ago and it's what he did himself for 50 years as a business and life success coach. He inspired thousands of individuals from all walks of life and from all parts of the world to understand and to realize their true potential.
John dedicated his life to helping others increase their effectiveness, unlock their potential, and inspire change, courage, commitment, and tremendous results. His goal was to help you "Break Through Limitations." His work on Mindset, Self-Image, and Breaking through Limiting Beliefs was incomparable.
John Kanary died peacefully, surrounded by his family May 20th, 2023, at the age of 83. Despite his recent serious health challenges and being legally blind, his teachings were not lost on him. He was eager to help others as long as he possibly could.
Helping others improve their business and their lives was not just his business, it was his life. It was who he was. John was a life success and business coach long before it was fashionable, and he helped hundreds of thousands of people and especially financial advisors and insurance agents over his career.
Coal miner's son 
John Kanary was born in Glace Bay, Nova Scotia, the son of a coal miner. He grew up in Toronto and was an outstanding high school athlete. In his early twenties, John launched his own express delivery service. After two successful years, he moved on to build his own business equipment company where he became the Number 1 dealer in the world in just three years. After selling the business, he joined the insurance business and became the number one agent in a field of 12,000 throughout North America in just one year. Later he earned his black belt in karate and brought that winning spirit to all his work. 
In 1974, John found his greatest passion – professional speaking. His mentor, the legendary Earl Nightingale, and his timeless recording "The Strangest Secret" motivated him to make it his life's work. He later met and joined forces with Bob Proctor and jointly developed and built one of the world's most popular personal development programs, "Born Rich".
Along with his own programs, "Breaking Through Limitations", "The Top Performer", and "Building a High-Performance Team" he helped companies like Prudential of America, Metropolitan Life, Confederation Life, Canada Life, Great Eastern Life Assurance Company of Singapore, the former Mutual Life of Canada and London Life, Investors Group, the Bank of Montreal, IBM Canada, the Bank of Hong Kong, The National Hockey League teams and athletes, Singapore Airlines and many others, John also gave back to the community through a teen program he called "Roots & Wings". 
John was on the inaugural Canada Sales Congress faculty in 2013 and brought the house down as the closing speaker – just 2 months after he lost the love of his life, his wife and business partner, Maureen. There has never been a more moving presentation.
A legend 
John's passing is the end of an era. We've lost a legend and a life success coaching icon like no other. There is no one coming up in professional development with his background, experience, and expertise anytime soon. 
John was that rare coach that knew the business he coached. As a world-class award-winning business product salesperson and then insurance agent, no one identified with financial sales professionals better than he did. He knew the job because he did the job at the highest level. It made him particularly valuable to anyone fortunate enough to call him coach or friend.
John had a true passion for self-development and high performance. He learned at the knee of some of the best, like Earl Nightingale. He studied the greats in business and the classics in life and shared his unique take on their wisdom. What's more, his feats of memory were truly amazing! 
John had a large influence with many consultants and directors at Investors Group (now IG Wealth) and other financial distributors. Thousands of advisors and leaders owe some of their success to John Kanary. Like I do. 
Our first meeting 
You know how there are some people who, after you meet them, everything changes forever, and nothing is ever the same? John Kanary was that person to me.
It was 7:00 am on a cool September morning at the old Waterloo Inn in 1982 that I met John. He was there to speak at a meeting of the Kitchener Waterloo Life Managers Association. We connected immediately and today there is a little bit of John Kanary in everything I do. We were friends for more than 40 years and I would not be who I am without him being who he was and sharing it with me. 
John was a life-changer for many people, and he surely changed my life. He showed me my strengths and how to work around my weaknesses. He taught me how to deal with challenges and how to perform at the highest level. He showed me what it took to get and keep the winner's attitude. I am blessed to have known and worked with him and will be forever grateful. I quote him often and his message will live on through me.
If you pray, please say a prayer for John Kanary. I will. I know that today his sight is perfect, and his frailties have evaporated. He is once again the vibrant man we knew and loved.
I celebrate John Kanary and the amazing contribution he made to so many for so long. The world is a better place because of him, and I will never forget his tremendous final presentation October 24th, 2019, in Toronto that you can still see on YouTube.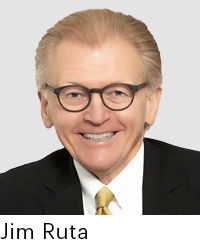 May God rest John Kanary and comfort his family and friends, associates, and clients with his philosophies, lessons, and passion. More than ever, we need that hug that John always used to open his talks. May his memory be everlasting.
John leaves his son Bob and daughter-in-law Linda and five grandchildren to mourn his passing. He was predeceased by his wife Maureen in 2013 and son Ricky in 2023.
Jim Ruta President, Advisorcraft Media Burlington, Ontario.